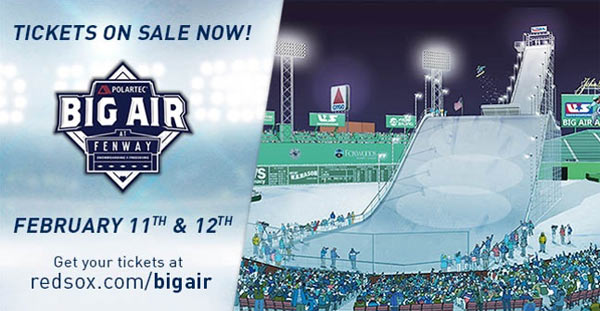 We wanted to make sure you were aware of this once-in-a-lifetime event being hosted at Fenway Park.
Go Big! On Thursday and Friday, February 11th and 12th, Fenway Park will host a big air snowboarding and freeskiing US Grand Prix tour event - Polartec Big Air at Fenway. The event will feature a 140-foot high snow ramp - taller than the light towers at the ballpark! The competition will include many of the top Big Air athletes from around the world: Olympic slopestyle skiing gold medalist Joss Christensen, slopestyle snowboarding Olympic champion Sage Kotsenburg and local Olympian Ty Walker. Don't miss out on this amazing event!
Tickets start at $30. Get your tickets today at redsox.com/BigAir!
---

---
Berkshire Outfitters has everything you need for your outdoor excursions. You'll find a great selection of the best brands in equipment and gear on the market. Berkshire Outfitters is your source for racing and recreational canoes, as well as white water and sea kayaks. The selection of X-C ski equipment, waxes and apparel is the best in the Berkshires. Not to mention you'll find snowshoes, bikes, snow boards, camping and hiking equipment, footwear and much more.
Berkshire Outfitters also provides the best in service. They take great pride in their work and have a faithful following of customers who depend on them to keep their equipment and outdoor gear in top-notch condition.
If you are in need of a rental, Berkshire Outfitters has canoes, kayaks, skis, snowshoes and more at competitive prices.
Stop by and see us today!